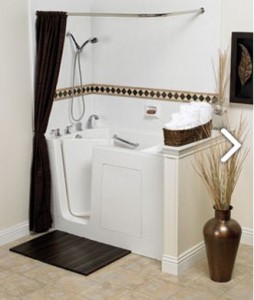 Walking bathtubs make it easier for those who are older or have a disability. We have the absolute highest quality tubs at the lowest price in the industry. A Bathtub will improve your quality of life if you or a loved one deal with aliments such as Arthritis, Diabetes, Joint Pain, Muscle Pain, or other ailments.
We only install products that are made with the highest grade materials and are all factory tested before shipping.
Construction
Many of our models of walk in bathtubs are built with 3 layers of high grade acrylic gel-coat for a beautiful and easy to clean finish. The acrylic gel-coat is set on 3 layers of fiberglass for strength and durability. This shell is built on a special designed stainless steel frame for long lasting support.